With summer in full swing, now is the perfect time to enjoy dining outdoors
Whether you want to enjoy Sunday brunch or celebrate a night out, the Monterey Peninsula has something for you. Here are 10 of the top restaurants in Carmel and Pebble Beach with outdoor seating.
Treehouse Cafe
Located beachside in Carmel, Treehouse Cafe is passionate about creating a memorable dining experience. Its menu features diverse and flavorful global dishes with an impressive wine selection. This rooftop restaurant has plenty of cozy outdoor seating on its patio and veranda, which is also pet-friendly.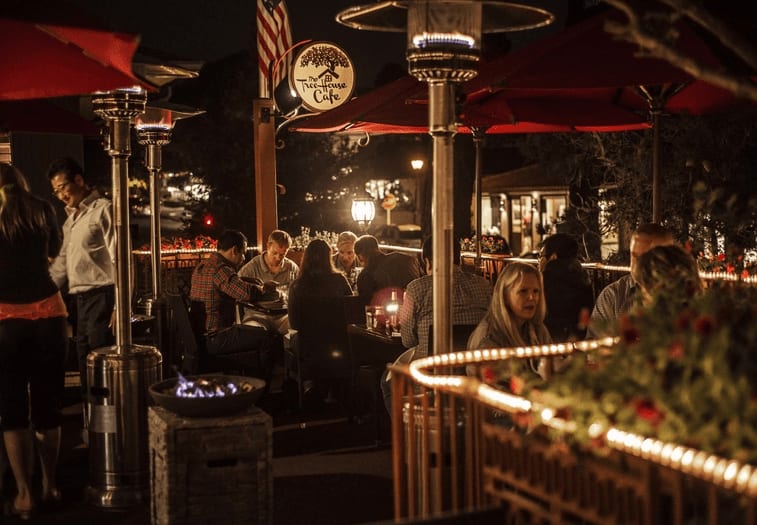 Credit: Treehouse Cafe
Village Corner
Village Corner has been a staple of Carmel since 1948, specializing in traditional, homemade American food. Be sure to stop by for weekend brunch on the patio!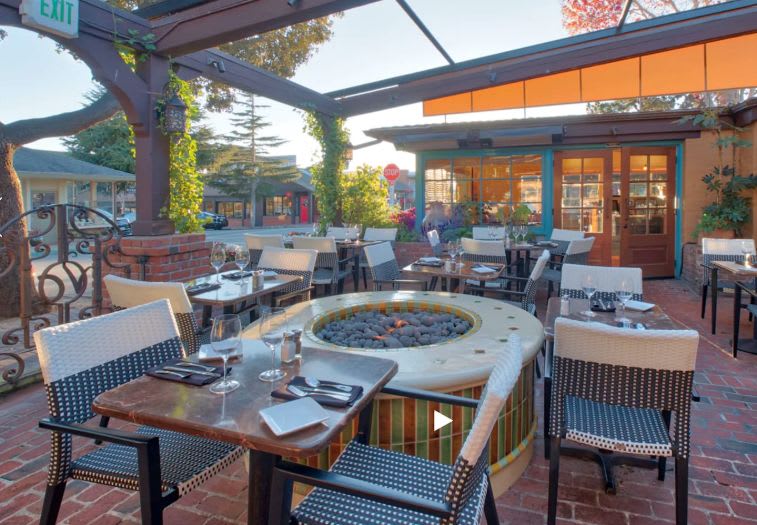 Credit: Village Corner
Overlooking the 18th hole at Pebble Beach Golf Links, The Bench offers a dining experience like no other. Established in 1919, this upscale American restaurant offers a wide array of creative and bold dishes. Here, you can enjoy a delicious meal with unbeatable views.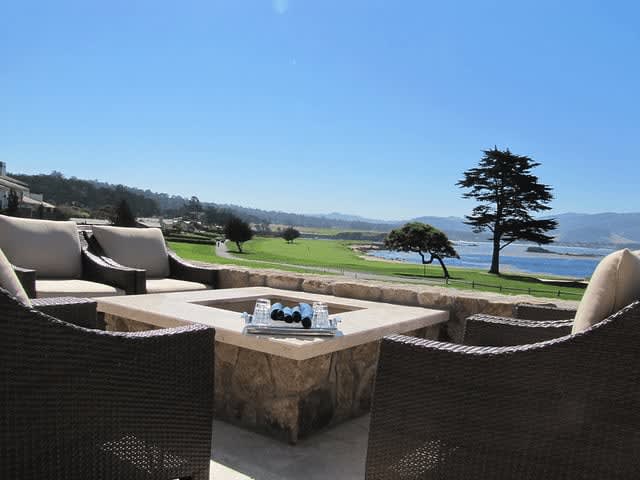 Credit: See Monterey

Credit: Pebble Beach Resorts
You might not currently be able to travel to Hawaii, but don't worry—you can still enjoy high-end Hawaiian fusion at Roy's at Pebble Beach! Located in the Spanish Bay Resort, Roy's at Pebble Beach is committed to quality customer service and unforgettable meals.
Anton and Michael
Anton and Michael has been a part of Carmel since 1980. Its innovative menu includes mouthwatering dishes such as seared Idaho rainbow trout and seafood fricassee. With fountains, fireplaces, and an inviting outdoor patio, Anton and Micahel is the perfect backdrop for a romantic date night.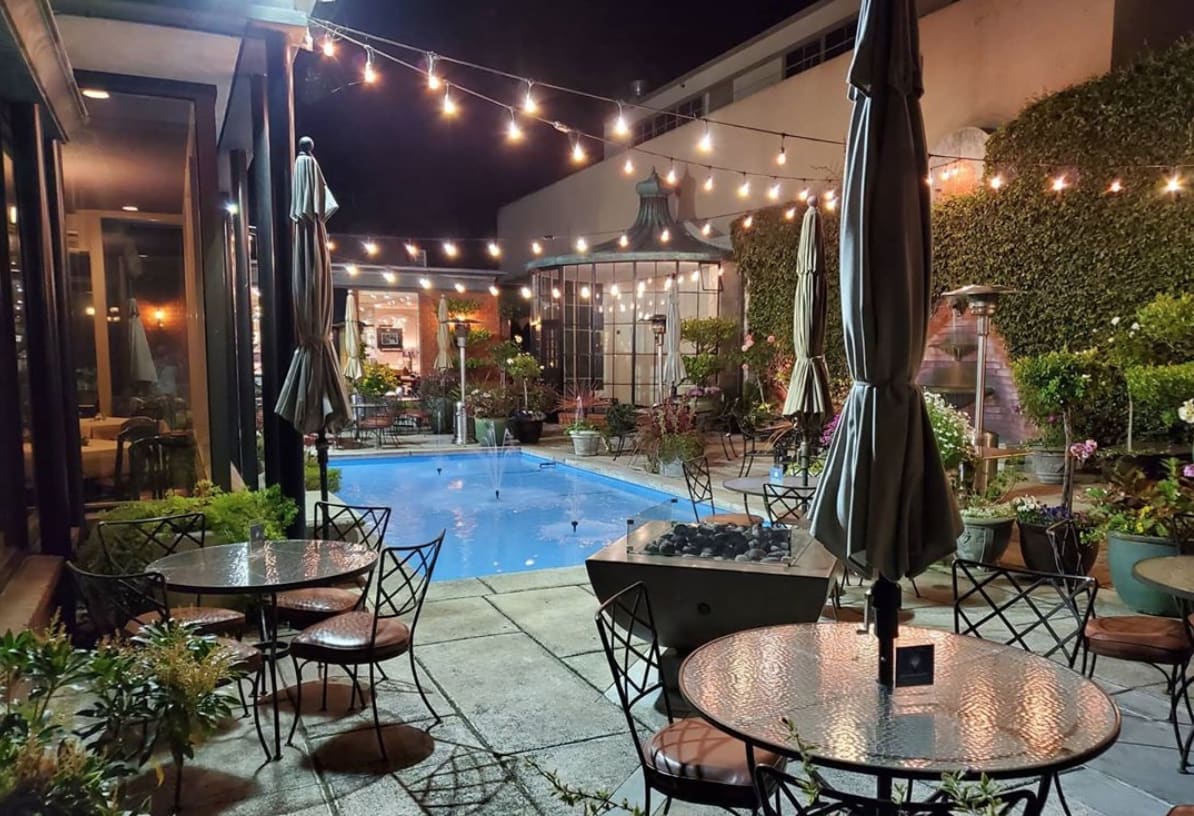 Credit: Anton and Michael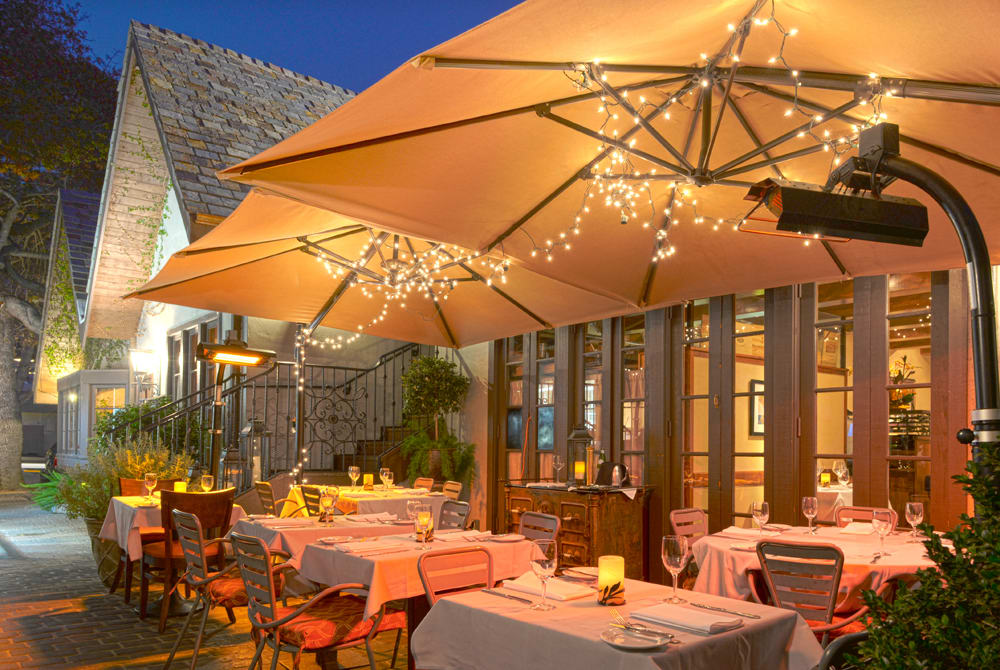 Credit: See Monterey
Grasings
It's no surprise that Grasings is beloved by Carmel residents and visitors alike. Here, you can enjoy coastal cuisine on its outdoor patio along with some of the best cocktails in town.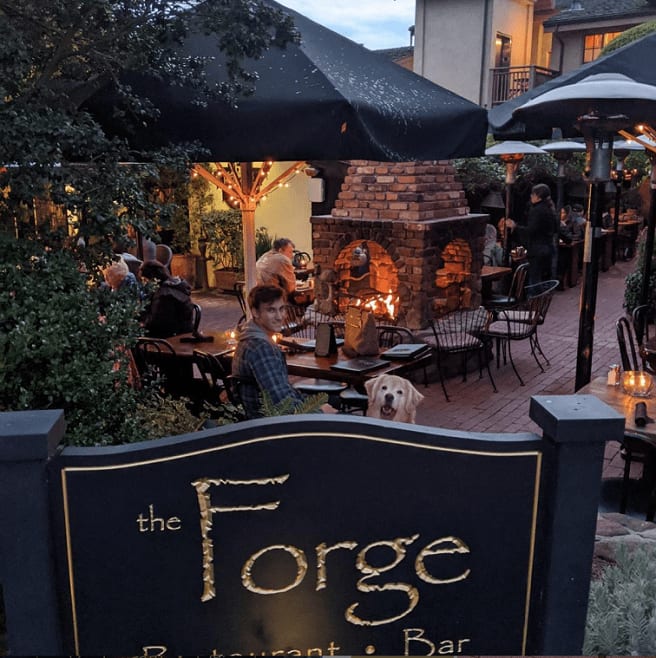 Credit: Forge in the Forest
Located in Carmel, Forge in the Forest is passionate about cultivating whimsical dishes using the freshest ingredients. With fire pits, patio seating, and gardens, dining here is a magical experience. Not to mention it is directly next door to Tim Allen's office!
Stationæry
Offering breakfast, lunch, and dinner, along with specialty coffees and natural wines, Stationæry is an intimate and elegant space. You'll find everything from avocado toast to lobster rolls to olive oil cake on this innovative and wide-ranging menu, so there's sure to be something to satisfy every craving.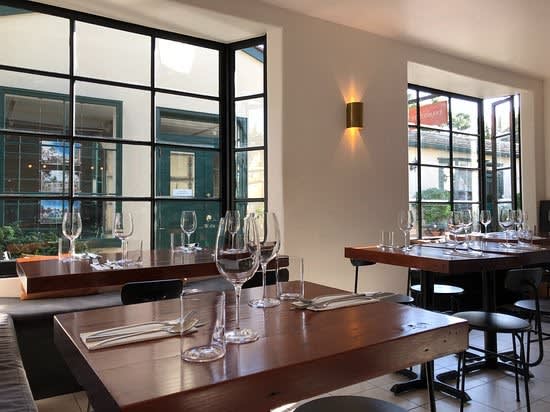 Credit: Monterey County Weekly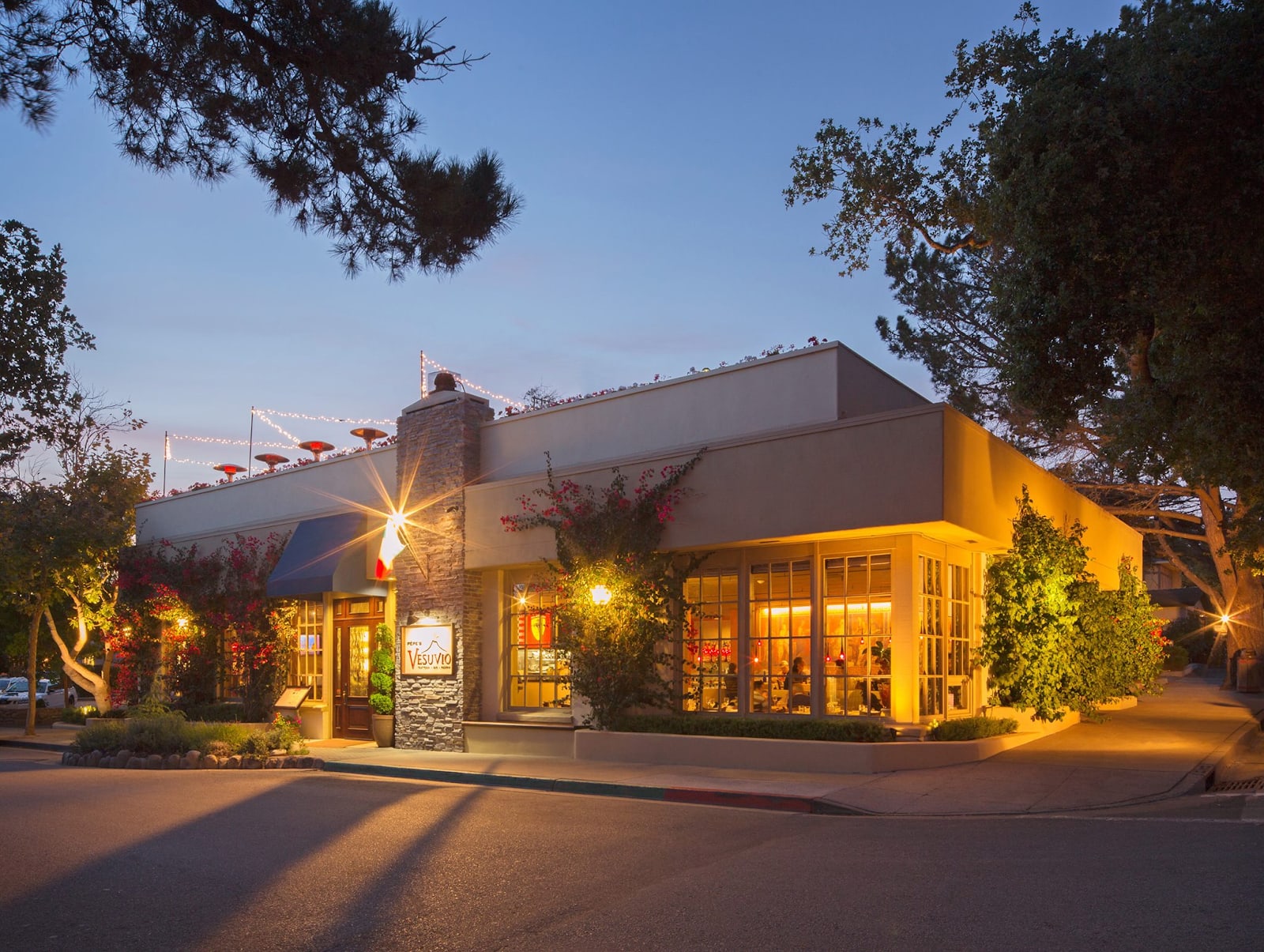 Credit: What's Up Monterey
Vesuvio
Vesuvio is a symbol of strength and power in Southern Italy, so it makes sense that this restaurant serves up bold flavors inspired by chef Pèpe's great aunts. All ingredients are either made in-house or imported from Italy, so you know that here, you're getting the freshest, most authentic cuisine around. Come enjoy pizza, pasta, or the famous garlic bread.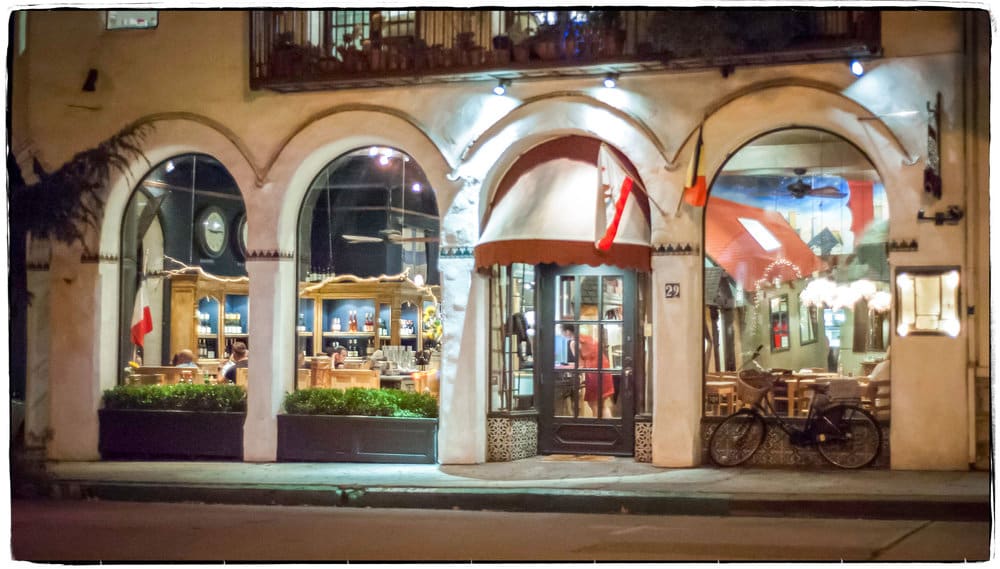 Credit: La Bicyclette Restaurant 
Food is an art form at La Bicyclette. This eatery serves up hand-crafted, European Country cuisine with old-world artistry, blending traditional cooking techniques with creative flavors. With the menu updated weekly, you're always in for a pleasant surprise here, from pizzas to seafood dishes to charcuterie boards.
If you want more opportunities to dine at the bountiful array of restaurants in Carmel & Pebble Beach, you'll need a home in the neighborhood. To explore homes for sale in Carmel and Pebble Beach, contact Tim Allen today. With years of real estate experience, Tim can help guide you through the process of finding the perfect property.
*Header Image: Pinterest